Schleck said "It is not easy to stop yourself from doing something which you love the most but I always wanted to retire at that level where I was still competitive and fat. I am really thankful to spend my large part of life in riding bikes for living and thankful to all the friends who have made along the way."
He added "The time spent with the amazing and different teams and the victories, memories will always stay with me forever and I will always remain a professional biker and leaving this professional side makes me allow to spend more time with family and wanted to see my two kids growing up. Now I want to sit and enjoy as my family and kids are more important to me." In Fleche Wallonne Schleck broke his collarbone in April and recovered in time to make Trek-Segafredo's Tour de France team. This 36 year old has finished his place in 34th now what will be his ninth and final appearance on French grand tour.


(more…)

Tags: Luca Guercilena, Schleck, Trek-Segafredo

Those who are looking around for recent news about their favorite rider Frank Schleck, they will probably not find much on him currently as he is probably enjoying the initial year of his retirement from the professional sport.


Being a Trek Segafredo rider, he did announce his retirement last year. The season of 2016 was his last when he announced his decision to retire in pre Olympics Games preparations. It was at a conference where he announced his decision to retire. He had started his career in 2003 and hence it signified an end of his career that spanned more than one decade.
Hailing from Luxembourg, the rider had seen several highlighted achievements in the course of his career such as winning the title of 2006 Amstel Gold Race, wins he had in the Tour de Suisse, at Tour de Luxembourg, at Criterium International and having secured the third overall position at the Tour de France in 2011.

(more…)

Tags: Schleck

The Luxembourg cyclist from Mondorf-les-Bains, Frank Schleck in a new announcement, has said that he would be organizing a mass-participation cycle race, known as the Schleck Gran Fondo, on Saturday, 20 May 2017.


Schleck, who announced his retirement from professional cycling at the end of the previous season, has decided to share his love and passion for cycling after 13 years of engaging professionally in the sport.

The UCI Gran Fondo World Series qualifier he is organizing would hold on his training routes in Luxembourg and also in the beautiful Moselle region as well.

The Schleck Gran Fondo is a mass participation cycle sport event. It is a qualifier race towards the UCI Gran Fondo World championships that holds in Albi, France.

Riders who end up finishing within the top 25% of their Masters Age/Gender Classification will then be invited to participate in the UCI Gran Fondo World Championships as well as receive a UGFWS Qualifiers medal. Schleck and some other of his team mates would feature in the event as well. (more…)

In 2016, Fränk Schleck declared that the 2016 season would be his last season with the Luxembourger. He made the announcement during a pre-Olympic Game road race press conference.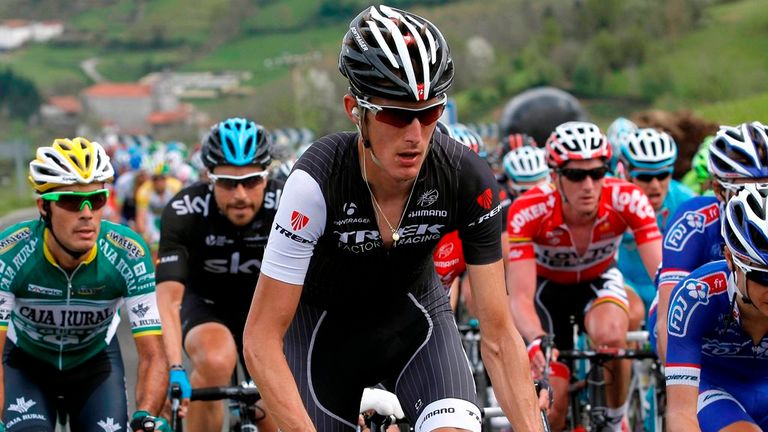 Schlek has won many titles since he started as a professional in 2003. He won the 2006 Amstel Gold Race title, and was declared the overall winner at the Tour de Suisse. Also, he was the overall winner at the Tour de Luxembourg and Criterium, and he came third at the 2011 Tour de France.

Ahead of his third Olympic Games appearance, Schleck said,

"There is never an easy way to stop doing something you love to do, but I've always wanted to retire at a level where I was still competitive and fit, I'm really proud of having spent a large part of my life riding my bike for a living and, above all, I'm extremely thankful for the friends I have made along the way."

Schleck added that that retiring will allow him enjoy more family time. (more…)

Tags: Andy, France, Frank, Schleck

Frank Schleck will soon be richer by 2 million pounds.


An order has been passed asking Leopard AG to pay Frank the money for terminating him from the side after 11 months into the doping ban. It was ruled that his former team has to pay the money to Frank following a clause in the contract signed between the team and Schleck.

The Trek Segafredo cyclist was terminated from the contract of Radioshack-Leopard in June 2013 when Frank was suspended for testing positive for a banned diuretic Xipamide during the 2012 Tour De France.  The timing of the sacking was not right and this is what has led to the order being announced to pay damages to Schleck. He faced a 12 month ban for his foul play from the date he tested positive for the banned substance. He carried out his training with the Radioshack-Leopard squad all through 2013.

Just before nine days of him returning to the race circuit, his team fired him. Schleck was going to sign up again with a reincarnated Trek Factory Racing team. The court, after studying the case, said that the decision on to fire Schleck from the team as taken very late by the team. They had lost their right to terminate the contract early. It took them almost a year after the incident to ban him from the team. (more…)

Tags: Frank, Schleck, Tour

Many might wonder how it must be like to have two biking superstars in the family. Frank is set to race in Paris-Nice.

This is in preparation for the upcoming Tour de France event in July. Being from Luxembourg and of two biking professionals, Frank has no intention of hanging up his cycling gear though his brother has done the same already. His routine drive is through Paris-Nice which is a familiar course for him every year before the pro season starts every year. He takes part in the Tour of Basque Country which is known as the race to the sun leading to the Vuelta a Pais Vasco. He would then join the Ardennes classic tour along with the Tour de Suisse before he participates in Tour de France. This is the roadmap that he follows in the racing season every year. Even at 35 he is not ready to discontinue. When he is asked to talk about his brother, whether he misses the races, Frank states that his brother is busy with the bike shop that he runs, he is sometimes happy that he does not need to train or take the stress of competing. At other times he is unhappy that the exhilaration of the competitions is no longer present and the chances of hanging out with the boys. (more…)

Tags: crash, Frank, Schleck